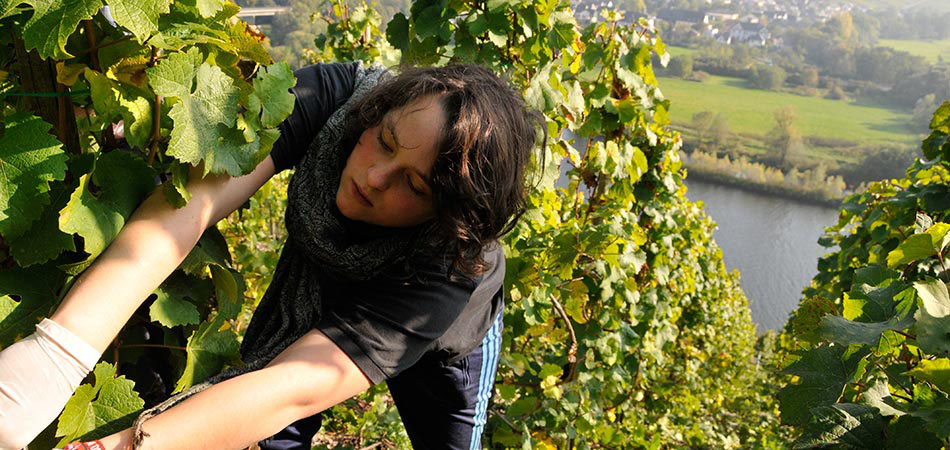 Enjoy our wines and a panoramic view
Our family has been making wine for generations. Everything startet more than 300 years ago with our first vineyards around the village of Dusemond – how Brauneberg was called until 1925. At the moment we are cultivating about 10,000 square meters of wine area. Our aim is to produce fine harmonic and fruitful Riesling wines. We also offer vacation apartments and guestrooms.
Our vineyards
Rocky, steep and sunny – that describes our vineyards the best. Most of our vines grow on the steep slopes of the Brauneberg in the renowned wine areas Brauneberger Juffer and Brauneberger Juffer-Sonnenuhr. There, on the southern side of the hill, the grapes get a lot of sun and warmth. The incline of up to 80 percent and the slate the vines grow in create a unique microclimate – one that both the grapes and the many lizards who live in the vineyards feel very comfortable in. The weather station on top of the hill proves this: Every year record temperatures are measured there – 1998 with 41,2 degrees celsius even one of the highest temperature ever measured in Germany.
Our wine- and beergarden
On our patio only a few meters from the Moselle you can indulge in the wonderful views of the vineyards that rise uphill behind the river. Or you can relax in our bar "Alt Dusemond". Enjoy the time at our winery with a glass of Riesling and homemade soups and cakes.